Custom Fine Fingerprint Jewelry
Imprint On My Heart offers the finest custom fingerprint jewelry in sterling, 14k, 18k gold and platinum. Each one of our fingerprint jewelry keepsakes is custom made for you with your inspiration, the fingerprint or thumbprint and a loving inscription. Create your unique fingerprint jewelry keepsake with your loved one's fingerprint, thumbprint, footprint, hand print, or your pet's paw or nose print. Each piece is custom crafted with attention to every detail to make the finest personalized fingerprint keepsake representing you and your loved ones.
Our fingerprint charms, fingerprint pendants, custom dog tags, baby footprint and hand print keepsakes are of the finest quality. Solid-cast with the fingerprint or thumbprint of your loved one. Each piece becomes a unique, personal keepsake that is more than jewelry, it is a memory for a lifetime.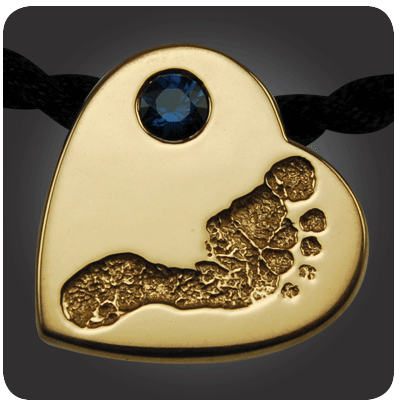 "I got the footprint pendant today...what can I say, it totally exceeds my expectations! It is absolutely gorgeous and such a beautiful way to commemorate the happiest day of our lives. Every detail of my order, from your excellent customer service down to the lovely packaging of the necklace is top notch...I just can't say enough wonderful things about your company!" ~Jennifer M.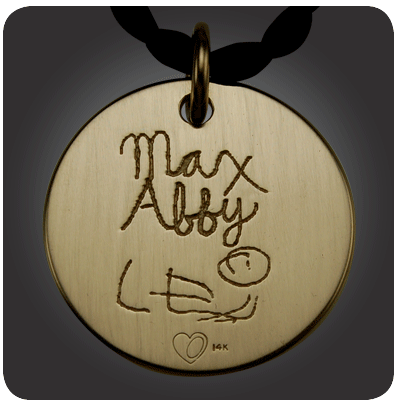 We believe in providing beautifully crafted fine fingerprint jewelry keepsakes of the highest quality with the finest materials so your piece will be cherished for generations. We have been offering our Love Notes Signature Collection

® since 2007. We can create a beautiful personalized keepsake with a signature, drawing, handwritten love note or special message in your own handwriting. Each fingerprint or thumbprint keepsake is a commissioned piece of art and crafted by hand for a unique one-of-a-kind high-quality heirloom keepsake.

All our fine fingerprint custom jewelry keepsakes are created and cast in solid .925 sterling silver, 14k and 18k yellow, white, rose and green gold and platinum. Our pet paw and nose keepsakes and memorials are solid sterling silver and bronze. Please visit our selections of custom designed fine fingerprint jewelry from our Shop tab. We offer the highest quality birthstones. Contact us for any questions and to create your own unique keepsake design. 888-515-8324

We can use just about any fingerprint, thumbprint, hand print or footprint to create your jewelry keepsake. An inked print works great. We can also use an impression, fingerprint created from pencil and Scotch tape, eye shadow, stamp pads or a photocopy of a fingerprint and just about any other method to capture the prints. Visit our YouTube channel for more ideas on capturing prints: ImprintOnMyHeart

Imprint On My Heart can create a keepsake that is personalized like no other piece of jewelry. Our fingerprint jewelry keepsakes are of the highest quality and custom made for you. We can take the handwriting or signature and create a unique keepsake that will be a memory for generations to come. Our jewelry lines include fingerprint gifts for men, a full line of jewelry for women including fingerprint pendants, charms, earrings, rings and more. We have a designs that can incorporate the entire family's fingerprints on one piece. We have colorful Artfully Engraved acrylic pieces for children and teenagers. We have pet nose and paw print pendants, paperweights and gifts for the pet lover. And we have a line of cremation ash memorial pendants for lost loved ones. We have the many designs for fingerprint memorial jewelry.

Imprint On My Heart offers the finest quality fingerprint jewelry in sterling, 14k, 18k and platinum.

888-515-8324

Lost Loved Ones and Funeral Home Information

We ship World Wide.