Fingerprint Jewelry Questions and How-To's
How does this work? An order can be placed from our Shop page or by phone at 888-515-8324. Each piece is custom made and all specific details about your order can be placed in the comments section for the online ordering or by phone. Shipping is complimentary with your keepsake order. Once an order is placed, the fingerprint kit will be shipped to you. If you already have an ink print, the print can either be mailed or emailed to us. You can upload your files via our UPLOAD LINK. Please email a high resolution scan of 800x800dpi or 1200x1200dpi or great. Once we receive the fingerprint ink prints back, we will then start work on your custom fingerprint keepsake. The entire process from when the order is placed to when you receive your keepsake can take from 2-4 weeks for normal delivery. Christmas, Mother's Day and Valentine's operations offer faster service.
Upload your fingerprints, thumbprints, baby hand prints, footprints and handwriting.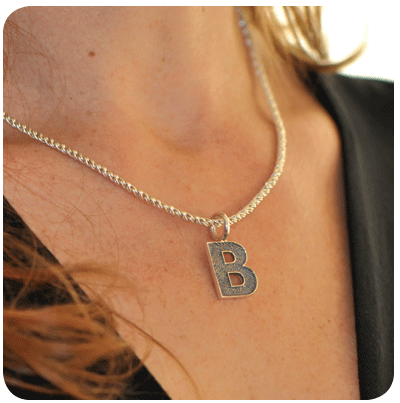 What is a fingerprint kit? A fingerprint kit is a fingerprint ID card that is used to capture a fingerprint or thumbprint, baby's hand or footprint. These are provided to you via mail from our Shop page. Fingerprints are captured on white cardstock paper with black ink. Take care to not smudge the fingerprints when handling the paper.
Where can I get pricing information? Pricing is available from our Shop page or from our catalog.
Do you have a catalog? Yes, you can Download our Look Book PDF.
Can you ship overnight to a funeral home? Yes, please visit our Lost Loved Ones page for more information.
How long do you keep the fingerprints? We keep all fingerprint on file permanently for use at a future date.
How can I capture a fingerprint when there is no time for a kit to be delivered? We have added several instructional videos on how to capture fingerprints without purchasing a kit.
YouTube video on how to capture a fingerprint using our mold impression kit
YouTube video on how to capture a fingerprint using Crayola Model Magic or Crayold Modeling Clay or similar
YouTube video on how to capture a fingerprint using our ink kit
YouTube video on how to capture a fingerprint using eye shadow
YouTube video on how to capture a fingerprint using a #2 lead pencil and Scotch tape
YouTube video on how to capture a fingerprint using a crafter's ink pad or stamp pad
Do you ship to Canada? Yes, we ship worldwide. Standard shipping for USA is included with every keepsake order.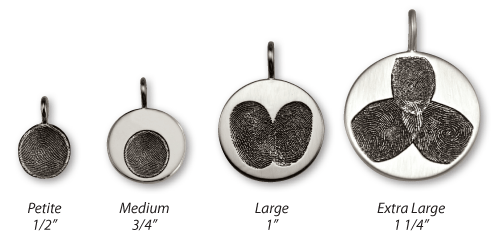 What is the size of the Heart Pendant? Our sizes are Petite at approximately 1/2", Medium at approximately 3/4" and Large at approximately 1". Extra Large is 1 1/4".
What if I want to create my own design? When placing an order for your own design, you can mail or e-mail a drawing of your design with dimensions. Pricing of the custom piece will be determined and we will contact you to complete the purchase. If you have a fingerprint ID card already, please mail or e-mail a photocopy of the fingerprints. If you do not have fingerprints, then the fingerprint kit is included with your keepsake order.
Do you offer gold without nickel? Yes, we offer nickel-free white gold, by special request.
What is the finish options? We offer a high polish shine, a satin or matte finish, and a rough finish.

Does the order come with the piece to attach to the necklace or charm bracelet? Yes, all our pieces come with a heavy gauge jump ring. Some pieces can be heavy and we do not want them to fall off of your necklace or bracelet. Jump rings can be soldered closed by request.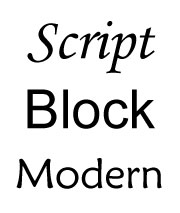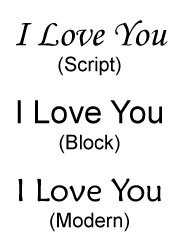 Do you offer any other fonts? Yes, we offer Script, Block and Modern.
Do you offer fingerprint jewelry from a fingerprint ID card? Yes, we can make a jewelry piece from a fingerprint ID card or any ink print. We offer our own fingerprint ID card, or you can provide a clean, crisp photocopy of your own fingerprint id card or other ink print. You can mail or email your photocopy. Please email a high resolution scan of 1200x1200dpi or greater. Please contact us for information on how to place your order using a fingerprint or thumbprint id card.
Can I get a fingerprint piece from a fingerprint impression? Yes, we also work with fingerprint impressions. When time or materials are not available, you can use an alternative like Crayola Model Magic, soft candle wax, Play-Doh, or other material to capture the fingerprint. Take care that the Play-Doh does not dry out.
Can I use my own ink? Yes, if you have a stamp pad or crafter's ink pad, take several prints on white paper, preferably cardstock. Take several fingerprints. Once the ink has dried, you can send a high resolution scan, mail the original or send a photocopy of the fingerprints.
I have some gold jewelry, can you use it to cast a piece? We do offer the service of purchasing gold and silver at market value. If you want to send jewelry for a credit towards your purchase, please contact us for information. We do not use preciously cast jewelry for casting. We only use new metal to insure the integrity and quality of our products.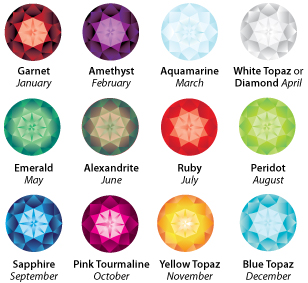 Can you place my child's birthstone place on the jewelry? Yes, we offer natural birthstones for any design. There is an additional charge for placing the stone. Birthstones can be place in the front of any keepsake. We offer the following natural birthstones: Garnet for January, Amethyst for February, Aquamarine for March, Serialized and Melee Diamonds or White Sapphire for April, Emerald for May, Alexandrite for June, Ruby for July, Peridot for August, Sapphire for September, Pink Tourmaline for October, Golden Topaz for November, and Blue Topaz for December. We do offer other options for birthstones replacements - opal, citrine, yellow sapphire, and others. If you desire a different stone, shape and size for your keepsake, please contact us for pricing. We will also place your own stone upon request.
Do you use Precious Metal Clay? No, all our pieces are hand crafted in wax and cast in our own studio with your precious metal selection. We offer .925 sterling silver, 14k yellow, rose, and white gold, and 18k yellow gold. Pieces made from Precious Metal Clay (.999 fine silver) are less durable and not suited for everyday wear. Sterling silver is an alloy containing copper which makes it a harder, more durable metal and creates heirloom keepsakes that will be cherished for generations.
Can my funeral home take the prints? Yes, we provide fingerprint ID cards to funeral homes. Please visit our Lost Loved Ones information page. They can take the prints and mail them back to us. If you already have an ink fingerprint from another source, we can also work with that. We will contact you to finish your order.
How long does it take? The fingerprint or thumbprint jewelry takes approximately four to eight weeks to complete for the entire process from placing the order to receiving your keepsake. If you need your keepsake by a specific date, please let us know.
Do you offer platinum? Yes, we do offer platinum for most all of our fingerprint jewelry designs.
How do I take care of my fingerprint jewelry? Use a polishing cloth to care for your fingerprint jewelry. Mild soap and water can also be used to clean your fingerprint jewelry. For sterling silver care, it is best to keep your fingerprint jewelry in a tarnish free bag or with the anti-tarnish square that comes with your fingerprint jewelry.
How big of a fingerprint or thumbprint can we imprint? Fingerprints can be taken from children 9 months and older with a visible fingerprint through adults. There is no age limit. If you desire a print from a baby less than 9 months of age, we suggest you take a toe print impression or use an inked handprint or footprint.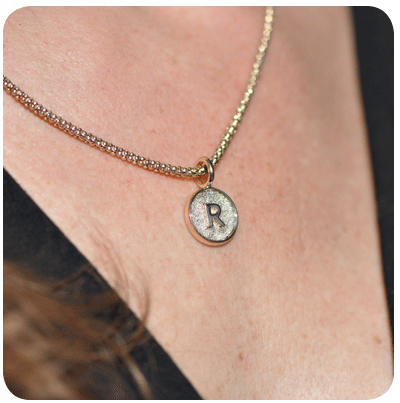 Can I have a fingerprint or thumbprint piece done of my dying child or grandparent? Yes. Please contact us for more information. We will work with your fingerprint ID card or ink print or provide one for you. FedEx Priority Overnight and FedEx 2-Day service is available. Please visit our Lost Loved Ones information page. We can work directly with your funeral home or mortuary.
I do not have a fingerprint of my deceased mother, but have her handwriting, can I get that message on a piece? Yes, we would need a clean photocopy of the message and can create a unique piece with the handwriting. Please contact us for more information and to place an order. We also offer the special handwriting or love note on the back of any piece.
Can I order the dog tag in 14k Yellow Gold? Yes, all our jewelry designs are offered in .925 sterling silver, 14k and 18k yellow, white, rose and green gold. We offer 14k and 18k vermeil for all our sterling silver designs.
Can we make more that one item from a print? More than one piece can be ordered with a fingerprint inked print, just let us know how many pieces when placing the order. We keep all fingerprints on file permanently so you may order in the future.
How old do the children need to be? Babies have such fine fingerprints that they do not show up well on the fingerprint ink card until after the child is around 9 months of age. But - the footprint or toe print comes out beautifully from birth. Fingerprint jewelry is available for all ages 9 months and above with a visible fingerprint. Please look at the child's finger or thumb without magnification and see if you can see visible lines. If you can see visible lines without magnification, then you should have a good print.
Can I use the dog tag for a key chain? Yes. We will design your keepsake fingerprint jewelry piece for whatever you need - keychain, dog tag necklace or pendant. Just let us know when you place your order.
I want a heart that is asymmetrical, do you offer that? Yes, you can design the shape of the heart and the placement of the fingerprint on the heart. Please provide a drawing with dimensions.
Is it messy to do? No. The hand or foot just needs to be washed once the print is taken.
How much can be engraved on the back of the large heart? The large heart is approximately 1" in width. The back can accommodate approximately 3-4 lines of information.
Can I put more than one fingerprint or thumbprint on a single piece? Yes. We also offer many different designs for multiple fingerprints or thumbprints. We offer pieces with the fingerprint back-to-back or can add more than one on the same piece. Custom requests and designs are our specialty.
I need my keepsake within a week. Do you provide rush service? Yes, there is an additional $100 charge for rush service. Rush service is approximately 1 week from the date we receive the fingerprint.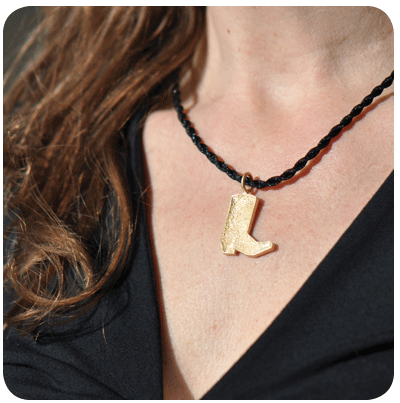 Can I design my own shape or size? Yes, just submit your ideas and we will do our best! Every piece is unique and custom made just for you.
Can I get a piece to match the jewelry I already have? Yes. Just provide the information about your piece and ideas and we will do our best. You can also e-mail us with your information. Please provide as close of dimensions of your piece along with dimensions of jump rings.
What is your privacy policy? We do not disclose our customer information to anyone. Upon request, your original fingerprint ID card will be sent back with your order - please mail a photocopy. If you plan on placing more orders in the future, please let us know.
Do you guarantee your workmanship? Yes, we guarantee our precious metal selection, quality, craftsmanship, and the final product and engraving per the specifications from the original order. We believe in providing quality heirloom keepsake for customer satisfaction. We care deeply about our customers. If you have any questions about your order or keepsake, please contact us.
Each fingerprint or thumbprint jewelry item you order is commissioned and custom crafted, cast and finished by hand. Any surface variations is to be expected and adds to the natural beauty and individuality of these hand crafted unique fingerprint jewelry.
Please e-mail us or call 888-515-8324 for information or if you have any questions about our products.
Accepting VISA, MasterCard, American Express, Discover and PayPal
Copyright 2006-2014