Custom Fingerprint Wedding Rings and Alternative Wedding Jewelry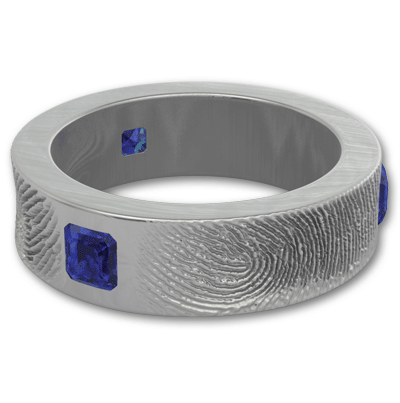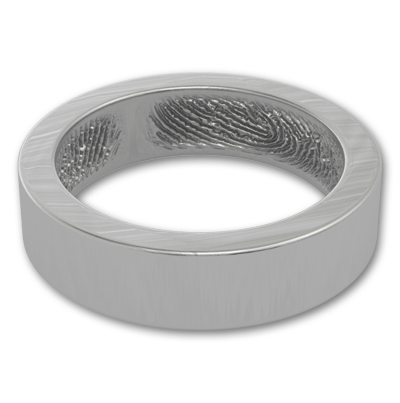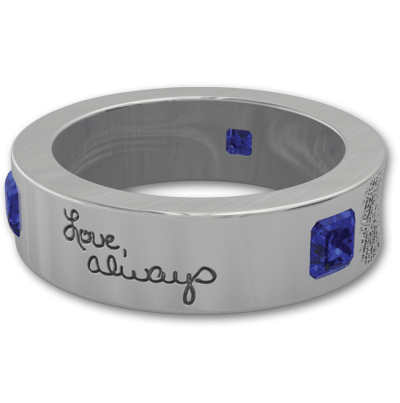 Create a unique wedding band with the fingerprint of that one you love. Fingerprint wedding bands can be made with a part of the fingerprint on a section of the ring. Create a full wedding band with the fingerprint all the way around the band. Add your own handwritten message to the inside of the band with our Love Notes Signature Collection. Handwriting jewelry is a lovely personalized memory to wear a lifetime.
Weddings are a great time for celebrations. The entire wedding party is involved in making memories for the special day. Create a gift that will be cherished for a lifetime. Many have created an alternative to the traditional wedding ring with a fingerprint pendant and a special message on the back to mark the occasion.
All fingerprint wedding rings and wedding bands can be created in sterling silver, 14k and 18k yellow, white, rose and green gold. We also offer platinum for many of our jewelry designs. If you are looking for an alternative wedding band, we can custom design one for you. Celebrate the uniqueness of your relationship with a truly unique piece of jewelry. Fingerprints on bands can be placed on the inside or outside. Engraving is included.
Each fingerprint or thumbprint jewelry keepsake ordered is commissioned and custom crafted, cast and finished by hand. Care is given to ever step in the process when we create your fingerprint jewelry. Any surface variations is to be expected and adds to the natural beauty and individuality of these hand crafted unique fingerprint jewelry. We believe in providing a beautifully crafted quality keepsakes. We guarantee our workmanship, product quality and customer satisfaction.
"I love my locket. It is just so awesome. I was so excited to get it. It just turned out perfect. I really appreciate what you have done for me." ~Amy A.
Lost Loved Ones and Funeral Home Information
Please e-mail us or call 888-515-8324 if you have any questions about our products.
Accepting VISA, MasterCard, American Express, Discover and PayPal
Copyright 2006-2014