Options for Your Fine Fingerprint Jewelry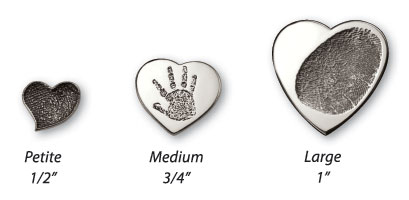 What is the size of the Heart Pendant? Our sizes are Petite at approximately 1/2", Medium at approximately 3/4" and Large at approximately 1". Our extra large is approximately 1 1/8". All our keepsake are custom made. If you would like a larger keepsake, please contact us for pricing.
What is the finish options? We offer a high polish shine, a satin or matte finish, and a rough finish.

Do you offer any other fonts? Yes, we offer Script, Block and Modern.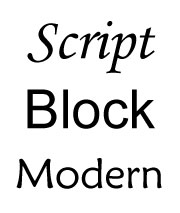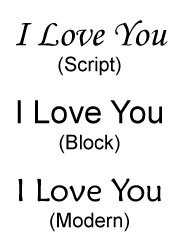 There is no additional charge for the addition of a Love Note.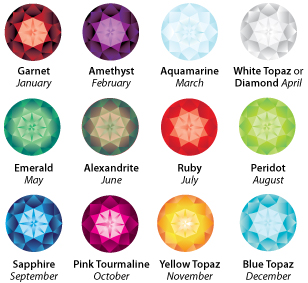 Can you place my child's birthstone place on the jewelry? Yes, we offer natural birthstones for any design. There is an additional charge for placing the stone. Birthstones can be place in the front of any keepsake. We offer the following genuine all-natural birthstones: Garnet for January, Amethyst for February, Aquamarine for March, Serialized and Melee Diamonds or White Sapphire for April, Emerald for May, Alexandrite for June, Ruby for July, Peridot for August, Sapphire for September, Pink Tourmaline for October, Golden Topaz for November, and Blue Topaz for December. We do offer other options for birthstones replacements - opal, citrine, yellow sapphire, and others. Our chart is listed for 2mm, 3mm, and 4mm round birthstones. If you would like any other shape or size stone, please contact us for pricing. We will create your keepsake design with the stone size and shape of your choice. We will also place your own stone upon request.
Do you guarantee your workmanship? Yes, we guarantee our precious metal selection, quality, craftsmanship, and the final product and engraving per the specifications from the original order. We believe in providing quality heirloom keepsake for customer satisfaction. If you have any questions about your order or keepsake, please contact us.
Each fingerprint or thumbprint jewelry item you order is commissioned and custom crafted, cast and finished by hand. Any surface variations is to be expected and adds to the natural beauty and individuality of these hand crafted unique fingerprint jewelry.
Please e-mail us or call 888-515-8324 for information or if you have any questions about our products.
Accepting VISA, MasterCard, American Express, Discover and PayPal
Copyright 2006-2014